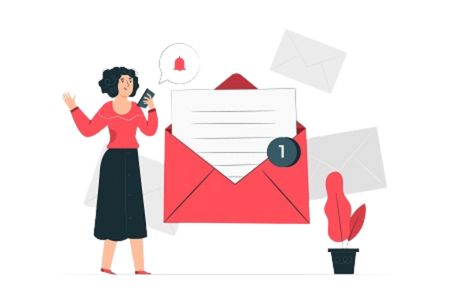 Why is Email Marketing most prominent ?
When social media platforms are so readily available and social media traffic has risen dramatically over time, many marketers wonder why email marketing is so vital. But here's the thing: people still check their inboxes for special offers from the businesses they care about. 44% of users check their emails for business promotions, whereas only 4% utilize social media sites to learn about marketing campaigns.
The importance of email marketing in the success of a digital company cannot be overstated. One of the most effective marketing tactics for generating company leads and generating a high return on investment is online email marketing (ROI).
According to a study, 61 percent of email subscribers would want to get promotional marketing emails every week, and 83 percent of customers spend more on a company after receiving web email marketing communications. Marketers also claimed a 3,800 percent return on investment or $35 for every $1 spent on an email marketing campaign.
Email marketing offers a fantastic opportunity to reach out to specific customers and increase income. If you haven't already begun preparing your email marketing strategy, now is the time to meet with an email marketing expert and sketch out a plan for moving your company ahead..
Uncoordinated promotion methods, poor client volume, and major business loss can come from a lack of understanding of what email marketing is and how to maximize email campaigns for B2B and B2C transactions.
Don't allow this to happen to your company. Get smart with your digital marketing spending and online advertising by utilizing conversion-focused email marketing services from the leading email marketing provider.
DataDriven offers a wide range of email marketing services tailored to your brand's goals, budget, and target market groups. Schedule a meeting with our email marketing Team to explore the value of email marketing in attaining your objectives.